(Lord Rama's Lotus Feet)

"The lotus feet of the Lord are always a subject matter for meditation for devotees. Sometimes when Lord Rāmacandra wandered in the forest of Daṇḍakāraṇya, thorns pricked His lotus feet. The devotees, upon thinking of this, would faint. The Lord does not feel pain or pleasure from any action or reaction of this material world, but the devotees cannot tolerate even the pricking of the Lord's lotus feet by a thorn. This was the attitude of the gopīs when they thought of Kṛṣṇa wandering in the forest, with pebbles and grains of sand pricking His lotus feet. This tribulation in the heart of a devotee cannot be understood by karmīs, jñānīs or yogīs. The devotees, who could not tolerate even thinking of the Lord's lotus feet being pricked by a thorn, were again put into tribulation by thinking of the Lord's disappearance, for the Lord had to return to His abode after finishing His pastimes in this material world."

.

(Śrīmad-Bhāgavatam 9.11.19, Purport)

.

.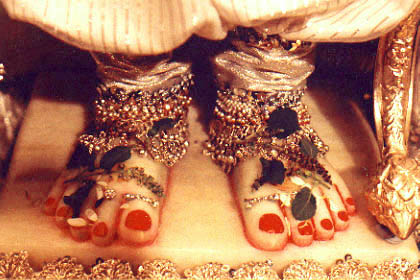 THE PRABHUPADA CONNECTION

.

Rama Meditation