(The streets of San Francisco, 2020—click to enlarge)

"Since the material world is compared herein to a forest, it may be argued that in Kali-yuga modern civilization is mainly situated in the cities. A great city, however, is like a great forest. Actually city life is more dangerous than life in the forest. If one enters an unknown city without friend or shelter, living in that city is more difficult than living in a forest. There are many big cities all over the surface of the globe, and wherever one looks he sees the struggle for existence going on twenty-four hours a day, people rush about in cars going seventy and eighty miles an hour, constantly coming and going, and this sets the scene of the great struggle for existence. One has to rise early in the morning and travel in that car at breakneck speed. There is always the danger of an accident, and one has to take great care. In his automobile, the living entity is full of anxieties, and his struggle is not at all auspicious. Apart from human beings, other species like cats and dogs are also struggling very hard day and night for existence. Thus the struggle for existence continues, and the conditioned soul changes from one position to another. For a while, he is a child, but he has to become a boy. From a boy, he has to change into a youth, and from youth to manhood and old age. Finally, when the body is no longer workable, he has to accept a new body in a different species. Giving up the body is called death, and accepting another body is called birth. The human form is an opportunity to take shelter of the bona fide spiritual master and, through him, the Supreme Lord. This Kṛṣṇa consciousness movement has been started to give an opportunity to all the members of human society, who are misled by foolish leaders. No one can get out of this struggle for existence, which is full of miseries, without accepting a pure devotee of the Lord. The material attempt changes from one position to another, and no one actually gains relief from the struggle for existence. The only resort is the lotus feet of a bona fide spiritual master, and, through him, the lotus feet of the Lord."

(Śrīmad-Bhāgavatam 5.14.1, Purport)

.

.

THE PRABHUPADA CONNECTION

.

The City Is More Dangerous Than the Forest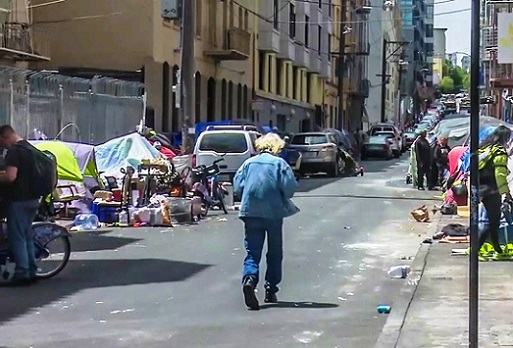 (The streets of San Francisco, 2020—click to enlarge)

(The streets of San Francisco, 2020—click to enlarge)